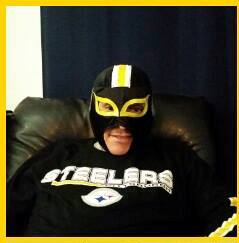 My uncle recently passed away and I thought I'd write down some of my fondest memories of him.  As so many others in my family, Uncle Louie had a given name, and a name he went by with family.  His given name is Joe L. Carrillo.  He was named after his father, Jose Luis.  For the most part, his friends called him Joe and his family called him Louie.
Uncle Louie was born in 1966 to Joe and Helen (Castillo) Carrillo.  He was a younger brother to my dad, Jim, and my aunts Kathy and Jeanette, and an older brother to my aunt Mary Helen (Hippie).  From what I gather from pictures and stories, he enjoyed sports like football and basketball and rock music like Van Halen and Joe Satriani in his early years.  My earliest memory of Uncle Louie was around the time my cousin Carlos and I were starting kindergarten.  Uncle Louie was about nineteen.  He took Carlos and I school clothes shopping and let us pick out an outfit.  I've always loved fashion and I felt like I was on top of the world shopping for clothes at Anthony's and Miller's Outpost.  I think I picked out a pink shirt and denim shorts.  It's funny how certain details stay with you.
The men in my family enjoy hunting, fishing and camping.  Over the next few years, my dad and uncles Louie, Lawrence and Tony would go on hunting trips with their friends.  Sometimes us kids got to come along and it was a blast.  I have fuzzy memories of seeing a bear in a far off field, riding the three and four wheelers all over the mountains, the time they "got" a turkey, and the time they saw a turkey and burst out of the truck to chase it down leaving my sister and I wondering what to do.
As I got older and moved into my first house, my dad, Uncle Louie and Allan built a beautiful porch in our backyard.  It was huge and great for entertaining.  We drove by it the other day.  Uncle Louie was no stranger to hard work, but always one to have fun.  He was the stereotypical uncle telling silly jokes, stories and pointing to you shirt asking, "What's that?"  While you looked down, his finger went straight up to your forehead.  All of us nieces and nephews and his daughter, my cousin Felicia, would fall for that.  He was the type of uncle that would bring a vintage rocking horse over for Easter for the kids to play with.  Rarely in the photo, but always in the periphery.
A love of the outdoors probably only compares with one other passion for the Carrillos.  The Pittsburgh Steelers.  Each year we'd gather around the TV, eat great food and cheer on the Steelers together.  Some years we even traveled to see them play.  The best memory was when the Steelers won the Super Bowl a few years back.  Uncle Louie's good friend Victor was biting his nails down to the quick, nervous with anticipation.  It was down to the wire, but the Steelers prevailed and Victor who was on the shorter side, ran toward my uncle, who was on the taller side, crying tears of joy, "We did it, Joe!"  I loved seeing them both so happy.  Anyone who says grown men don't cry has not seen a football fan when his team wins the Super Bowl.
Sadly, Victor passed away a few years later.  Uncle Louie was a lath and plaster contractor by trade.  When Victor passed, he made a large cross as a memorial.  I drive by that sometimes on my way to pick up the kids.  When Uncle Louie passed, my sister Meghann said, "Can you imagine Vic running into Uncle Louie's arms when he gets to heaven?"  I can totally see it.
Joe (Louie) will be missed by many, but I'm glad he is not suffering.  I imagine he is up there with Grandma yelling for him (Louie!) and cheering on the Steelers with Vic.  See you again, Uncle Lou.