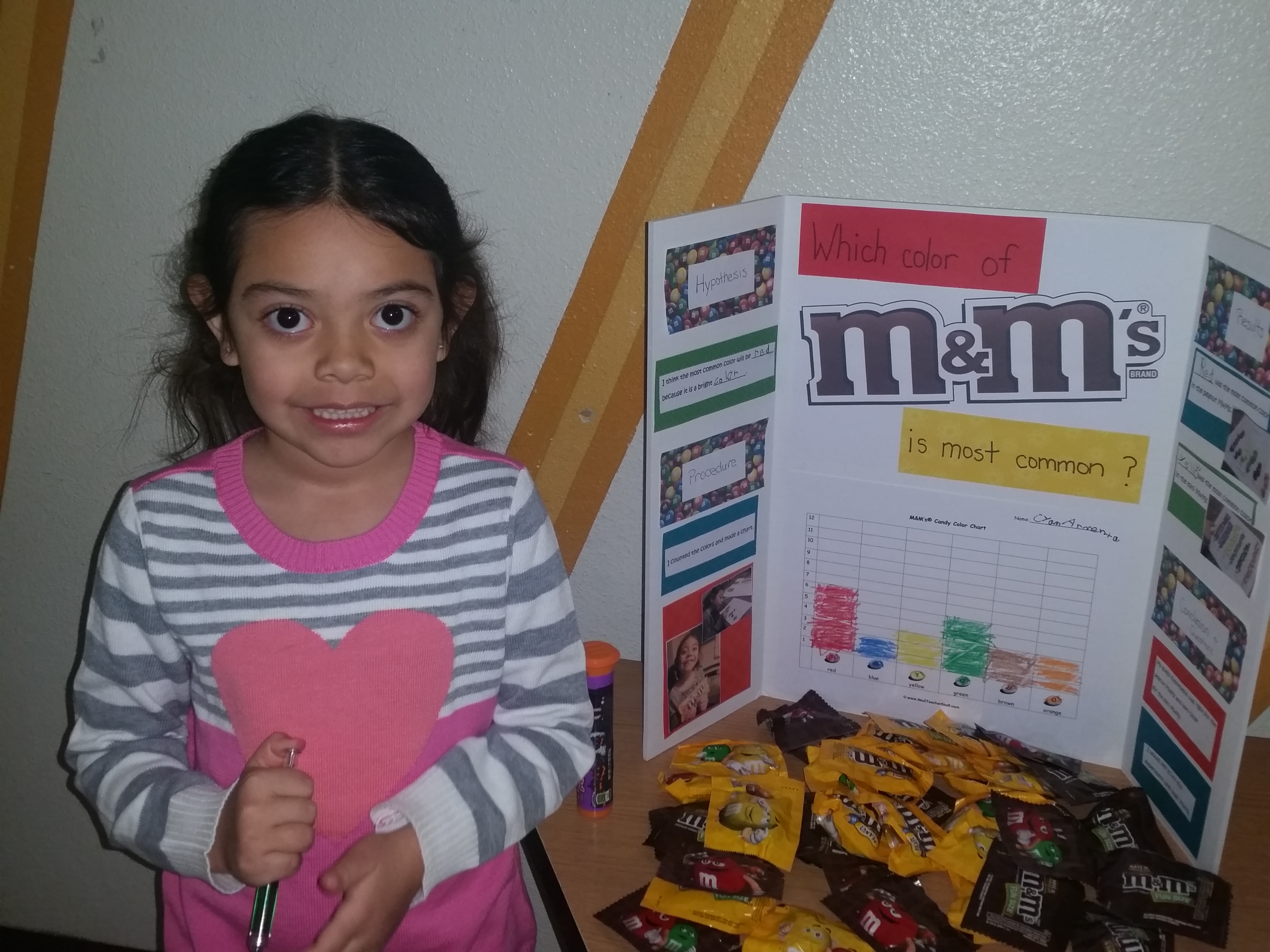 As a parent, I have learned that as often as you ask your children to tell you about their day, they rarely share the stuff you might find most interesting.  And that's okay.  Sometimes you have to discover the highlight reel of their day by searching their backpacks.  Today was one of those days.
As I looked through Cyan's backpack I discovered that she won first place for kindergarten in the science fair.  Heck yeah!
The science fair took place last week.  After some research on Pinterest, we decided to explore Which color of M&M is most common?  (On a side note, I sure am glad to be parenting in the time of Pinterest.  I may not be a Pinterest bride, but a Pinterest mom is pretty darn close when it comes to copying other great ideas).
Cyan's guess was that red would be the most common color because it is bright.
In the case of peanut M&Ms, her hypothesis was right.
In the case of mini M&Ms, yellow edged out red by one M&M except for the fact that Cyan ate one of the yellow mini M&Ms.  I guess we may need to work on our scientific method.  But at least the success tasted sweet!
Cyan's project was judged along with other kinders and first graders.  They were all excellent.  These kids really blow my mind.  They grew crystals and plants, displayed prisms and the light spectrum, and put gummy bears in all kinds of solutions.
Judges walked around interviewing the kiddos.  It was precious.
At the science fair, I mentioned to Auntie Meg that sometimes kids win scholarships for their science fair projects.  I remembered this from my ridiculous turn at regionals in 7th grade.  I saw it as a chance to walk around UNM.  You could tell other kids had not half assed taken their project super serious and put in months of work.
Turns out there are even scholarships in elementary school.  Cyan received a scholarship to Camp Invention, a science camp at her school that takes place over summer break.
We're super proud of this kid.  I think she may have a knack for this stuff.  She and Papa built some kind of electrical circuit toy a few weeks prior.  She also likes to watch Wild Kratts and Sid the Science Kid.
Backpack surprise #2 was that she also won a magnet set.
And for the backpack hat trick, I found a Character Counts nomination from November.  She was recognized for her empathy.  In this day and age, when empathy seems to be lacking at every turn, it warms my heart to hear this kid is so caring and conscientious towards others.
I am unabashedly bragging and so proud of our Cyan Rose.  I'm grateful for the PTO and volunteers who put together Science Night.  And most grateful for backpack surprises and science kids.