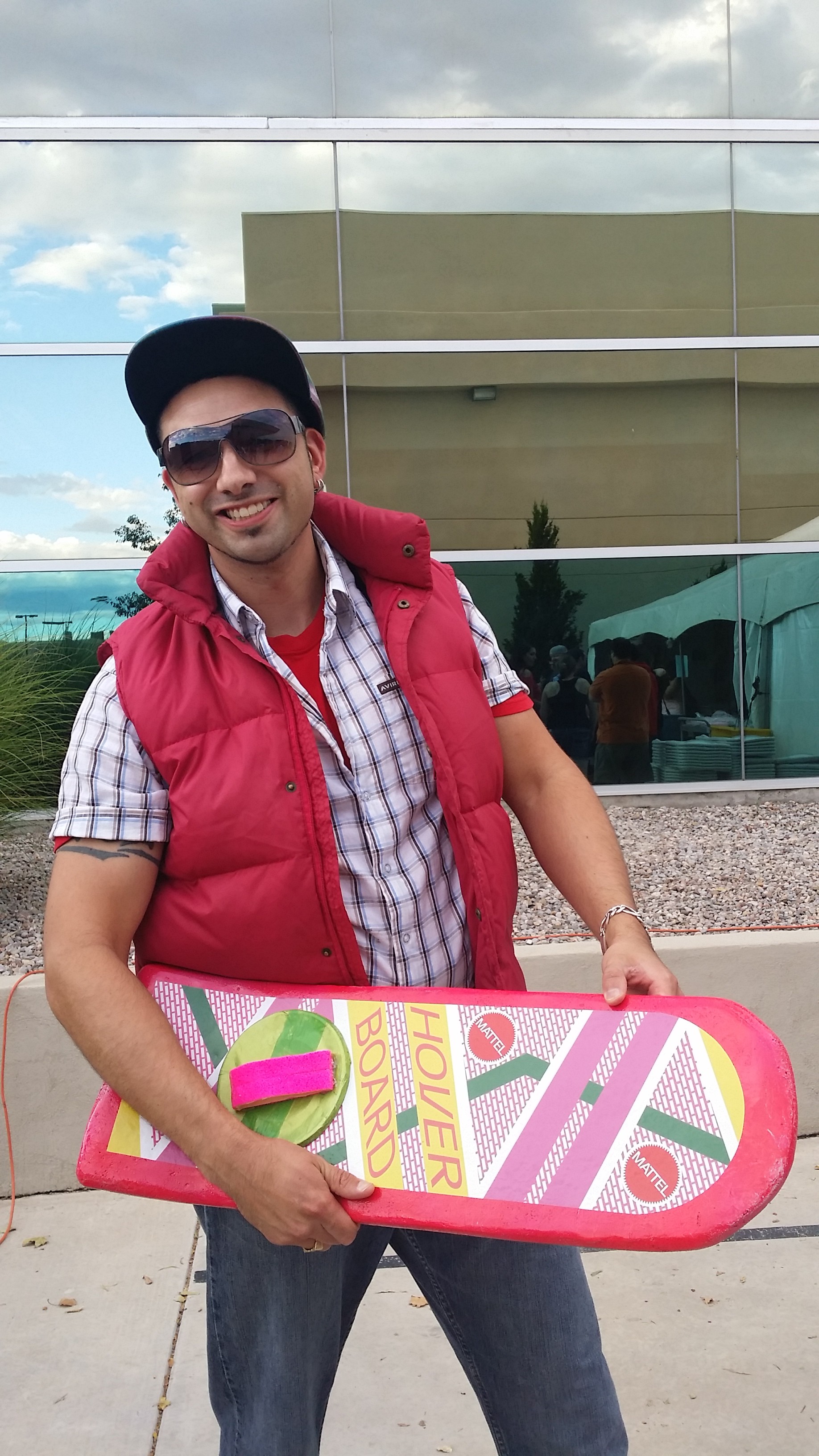 As I write this, Back to the Future Day is 42 days, 14 hours, 10 minutes away.  That's right, October 21, 2015 is less than two months away.  I thought I better write this post in case anyone wants to throw a sick BTTF party.  Like we did last year.  Let's go back…to the future!
For the last three years, I've been tasked with decorations for our company summer event.  IDK why.  Maybe it's because I'm a creative.  My friend D is tasked with games because she's a FUN!  The first year we did a playgound theme.  This year we did a county fair theme.  But last year, that was a tricky one.  How do you plan a Back to the Future Party?  With a little help from Pinterest, the jigga-watts start flowing.
First, you have to invite your guests and let them know they're in for a HEAVY time.  Costumes and characters are encouraged.  Marty, Doc, Biff, George, Lorraine, Jennifer, the whole gang's invited.
Easiest thing to start with is the menu because no matter what time you're from, everybody loves to eat.
And for a very futuristic dessert, you can't go wrong with Dippin' Dots!
Be sure your DJ has songs from the wild west, classics from the 50s, killer 80s tunes and you know, future hits…from 2015:)
We sectioned our party into four "times".  Marty McFly started out in 1985 just jammin' our to some Huey Lewis and the News.
Then he went back to 1955 and rocked out at the Enchantment Under the Sea Dance.  Don't forget your Save the Clock Tower collection can.
In Back to the Future II, Marty travels to 2015.  I know, right.  Much likes the movie makers, my 2015 is just colorful and weird.  But there's a hover board and a DeLorean so it's all good.
In the final episode of the trilogy (which I haven't seen in it's entirety!), Marty goes to 1885.  Beware of outlaws like Buford "Mad Dog" Tannen.
Then you just need some finishing touches like a flex capacitor, lightening strikes, Goldie Wilson campaign posters, and an almanac.
Now you're ready to party like it's 1985, 1955, 2015, 1885, umm…you're ready to party!