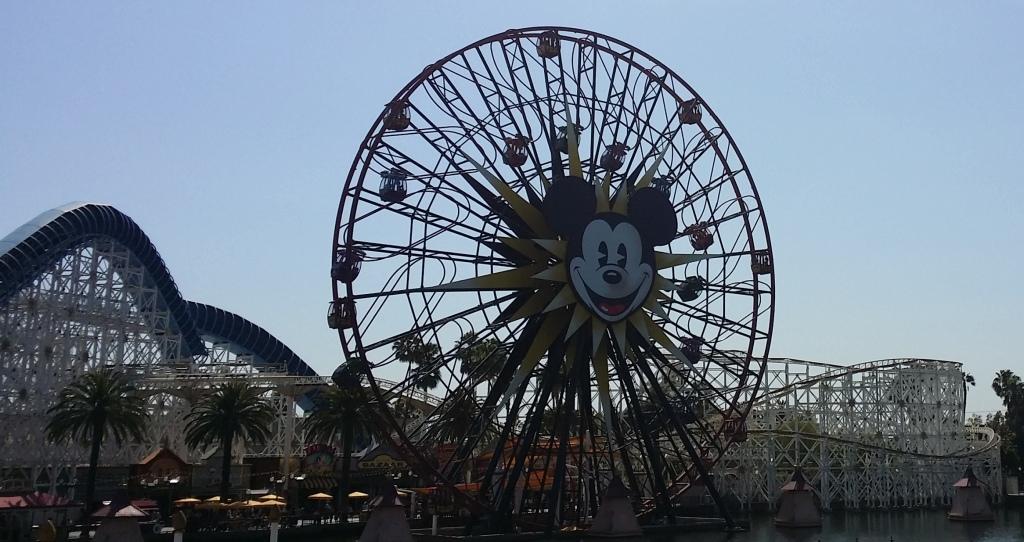 I've been meaning to write this for a long time.
We went to California back in May because this guy had a conference in Newport Beach.
And it just so happened to be that Cyan was turning 4.  We thought it would be a good idea if we tagged along.  I think it was.  I mean, can you tell this little girl was happy to be at the happiest place on earth for her birthday?
She met lots of her favorite characters.
Her favorites are Donald and Chip & Dale.
She got autographs from Mickey, Donald and Daisy.
We got a hug from Sulley.  He knows us like that, remember?
And rode so many fun rides.
Allan and Cyan rode Star Tours on our first day.  It was May the 4th.  Get it?
Some of our favorites were Peter Pan's Flight, Golden Zephyr, Jumpin' Jellyfish, Ariel's Undersea Adventure, Mater's Junkyard Jamboree, Symphony Swings, and Toy Story Midway Mania.
Unfortunately, some of the classics weren't running so we missed Pirates of the Caribbean, It's a Small World and Finding Nemo's Submarine Voyage.  But we still did other classics like Dumbo, the tea cups, the Jungle Cruise, the Haunted Mansion and the Tiki Room/Dole Whip.
My least favorite was the Radiator Springs Racers.  Omigosh I was so scared.  I think Cy was a little shaken too, but she's definitely braver than me.  We went on Mickey's Fun Wheel and luckily I researched all the rides before because some people unknowingly rode the cars the rock and we could hear their screams.
Nobody does a parade like Disney.
All the shows were great…the fireworks, Aladdin and Disney Junior Live!  I still have a gold doubloon from Jake and the Neverland Pirates.
I wasn't sure if four years old was too young.  But with the right planning you can make it work.  My advice:
Go for more than one day.  Don't try to cram it all in.  In fact, I'd recommend half days if you can so the kids don't get tired.
Get Fast Passes for more popular rides.  But also be prepared for long lines.  And rides breaking.  I think we experienced that three or four times.  And buy Mickey ears.  They come in all sorts of fun new designs now.  Or the classic personalized ones.
Be most prepared for your kids to be so happy.  They say it's the happiest place on Earth.
I think it's a close second to the homecoming that awaited us.
Can't wait to take this little guy in a few years.
For more fun, check out Part 2