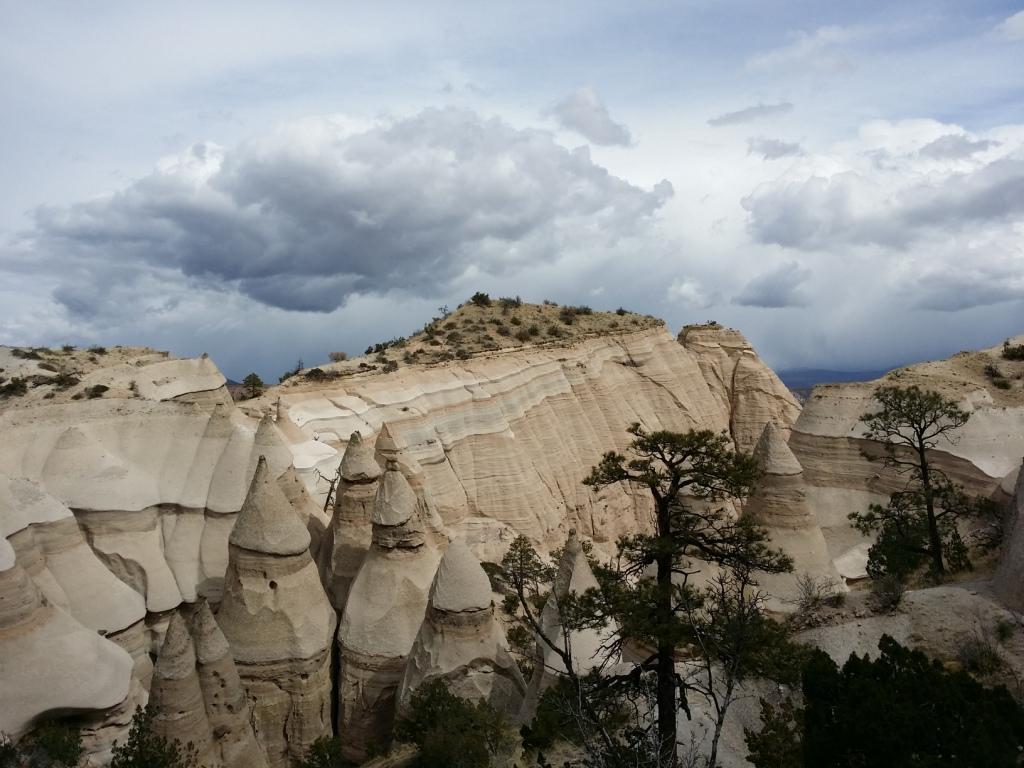 Fifty-five miles northeast of Albuquerque you'll find some pretty cool geological formations known as Tent Rocks.  The official name is Kasha-Katuwe Tent Rocks National Monument, Kasha-Katuwe means "white cliffs" in the Pueblo language Keresan.  While slightly off the beaten path, Tent Rocks makes for an excellent day trip.  Allan and I went there this spring as a sort of pre-birthday trip.  With so many great places to visit in our Land of Enchantment, this was definitely a bucketlister.

I'd recommend bring a camera.  I took the photos you see here with my phone camera, but Allan took his DSLR to make sure we got some really good shots.  It's a beautiful place.
Lots of great lighting and natural angles to play with.
We explored every nook and cranny.
I'd wear good shoes and comfy clothes.  You'll have to navigate some narrow spaces.
The strata is awesome.
Tent Rocks gets its name from the tent shaped tips that are left after erosion.
The hike is legit, but as Miley Cyrus says, "it's the climb.  It's steep, but short and worth it when you get to check out the views from the top.
I wouldn't recommend it for small children, but I look forward to bringing our kiddos in a few years.
We went in March.  I'd recommend layers.  I fluctuated between two sweaters, one sweater, a flannel and a tank top.  Hats, shades and of course water.  A beard if you're Allan.
Panorama shot.
After that hike, we deserved a margarita or two or a carafe.
The food at Tomasita's near the Railrunner Station is delicious.
And the service is top notch.
After lunch, we stopped in POP Gallery to see some of Allan's pieces and visit with the gallery owner.  Our last stop was the outlet mall.  It was a birthday trip after all.
Tent Rocks rocks.  Check it out!