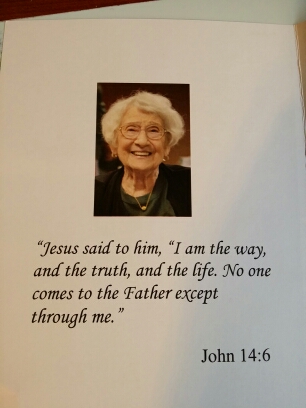 About a month ago I traveled to Texas unexpectedly.  My grandmother Florus Chandler passed away just a month or so after her 97th birthday.  I haven't blogged much over the past month.  I've been reading and just generally busy with work and chasing around a very mobile and active one year old.  I've wanted to write about Grandma Chandler and this last trip, but it's hard to find the words to do her justice.  Florus was a gifted writer herself, penning poems, letters and lyrics.  She told great stories.  I can't remember meeting anyone who recalled details so closely.  So I'm just gonna give it a go before I forget.  I'm not blessed with a memory like that.
But I was blessed to know Florus Zimmer Chandler.  I'm not sure why, but we called her Mrs. Chandler growing up, and eventually Grandma.  That might seem weird, but I guess I should point out that Florus is my step grandmother.  If I remember anything about her, it will be that she never made it seem like my sister and I were any less than a granddaughter.  She loved us and made us feel comfortable and welcome on our visits to Fort Worth or at family reunions.  It reminds me of the song Thicker Than Blood  by Garth Brooks.  
They say blood is thicker than water, oh but love is thicker than blood.  I feel confident that Mrs. Chandler made everyone she met feel comfortable, welcome, and loved.  Not everyone has that feeling in a blended family; I'm grateful I do.
I learned new things about Mrs. Chandler during our trip.  I heard stories about her childhood in Valmeyer, Illinois, with her parents and sister/BFF Arlue.  Her name was picked from a wallpaper catalog. I heard how she ran out of the door wedding dress in hand to marry her husband Ray.  Okay, that may be a stretch, but she was ready to start her life in Texas.  And what a life.  Mother to Dianne, twins Roy and Ray, and Cathie. Active in their activities as well as church and volunteer work with the Bread Basket Ministries.
And then there are just the random things I remember.  She prepared delicious meals and you'd best be hungry because she was always going to suggest a little more.  Playing Chicken Foot or Rummikub.  The infamous fruitcake story. Listening to a story she'd heard on the radio in her youth and she'd tell the story as if she had been the radio announcer.  My sister Meghann wrote a story about her in elementary school for a project called, A Senior Citizen I Know.  We kick ourselves because we don't know where it is or if it's even still around.  I remember hearing about her taking a balloon flight for her seventy fifth birthday.  She liked to watch baseball and Survivor.  She was so smart and so tall.  And funny.
Of course it is sad when a loved one passes, but it brings people together and I know that made her happy.  We drove out on my birthday.  After the long drive, we met up with Shelly who was so sweet and surprised me with a Hello Kitty balloon and delicious cheesecake for dessert.  Over the next few days, we got to spend time with aunts, uncles, cousins and each other.  It was a sort of throwback trip.  Mom, Roy, Meghann and me.


Before the service, several women at the church put together a nice lunch while the family visited and poured over Mrs. Chandler's poems and cards.  She was such a  good pen pal.  I still have several birthday cards from her.  The service itself was lovely.  We even sang a hymn that Florus penned in 1956 for a church stewardship contest.  She said it was her favorite because God helped her write it.

I'll cherish the cards she sent and this book of her poems.

The burial took place in Burleson at a private cemetery with many families who've been in the area for some time.  It reminds me of the cemetery at our family ranch in Martinez, NM.  At our cemetery, there have been some funerals where we all pitch in and shovel the dirt over the casket after everyone has laid a flower on top.  It's a lovely area where her body will rest as it should be.

Just down the road is the beautiful Lost Oak Winery where we enjoyed the countryside.  And what do you know, some people at the next table were playing Rummikub.  You can see the tiles behind Ray and Carrie.
Grandma Chandler had a long life, but even she knew she might be going someplace (see the poem below(.  So as people sometimes do, she gathered some of her belongings and set them aside to give to her loved ones, ornaments for example.

Soon I will be 97
I thought by now I'd live in heaven
There's one thing I'll have to face
I could go to that other place.
She collected angels and Precious Moments figurines.  Several years ago she gave me a Precious Moments nativity scene.  It seems to me that in this life, she not only collected precious moments, but she created them.