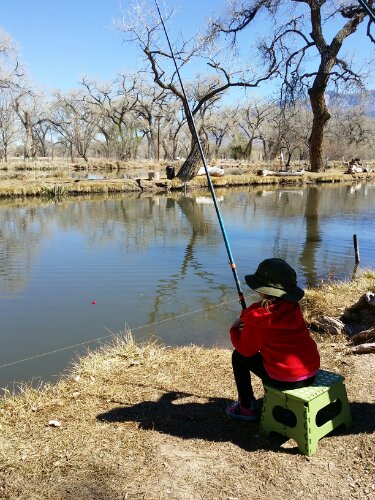 A couple weekends back we decided to take Cyan fishing since she had a blood draw earlier that morning. Those are always hard for her so we like to make the rest of her day really fun. After the lab, we ate breakfast at McDonald's and she insisted I climb through the Play Place tunnels with her. That stuff was not made for grownups, but I can't say no. So on to the main event, fishing at Shady Lakes.


Shady Lakes is on the edge of the North Valley between Alameda and Sandia Pueblo.  I first went there on a field trip in second grade.  It was one of my most memorable field trips.  My dad likes to fish and he came along for that field trip.  It wasn't quite as warm, but it was still a beautiful day.  For a small fee, you can fish, picnic, take photos, or just hang out on the beautiful property.


It's ridiculously easy to fish at Shady Lakes.  You can rent or buy whatever you need and you don't even need a fishing license.  A cane pole, some salmon eggs, a hook, some line and a bobber will do the trick.  Over and over.  It's not catch and release and the bites come pretty quickly so you have to be ready to pull them out.  I remember being interested in the bright magenta salmon eggs as a kid.  And the familiar stinky smell.  Cyan was interested in drawing in the dirt with a stick.


I didn't remember fishing being so gross.  But it's fun too.


In the end, four came home with us.  Cyan caught one.  Or we tried to convince her to.  They might have all technically been Allan's catches.


Eventually our littlest fisherman woke up from his nap.


One of the fish was full of eggs.  Yucko.


Catch of the Day


And special thanks to our consultant Kathy for instructing us on how to clean the fish.  Which Allan meticulously did at the fish cleaning station.


While Allan cleaned the fish, Auntie Meg, Kathy and I took the kids for a walk around the pond. It's too cold for the beautiful lilies that will there soon, but it was not too cold for the four ninja turtles who were sunbathing on a log. We scared one of them as we walked by and it jumped in the lake.
A couple weeks later, I cooked(!) the the fish with some lemon, salt, pepper and white wine.  It was pretty good.